Treasure Mountain Program Information
Since 1936, this camp has been building memories for many thousands of boys and leaders. The camp, its scenery, hikes, legends, crystal clear lake and icy cold water of Teton Creek are all part of the Treasure Mountain experience.
Address for Summer Mail:
P.O. Box 343
Driggs, ID 83422
This address is for summer mail only.
Please send scout camp payments to:
3910 S Yellowstone Hwy, Idaho Falls, ID 83401
Early in the morning if you listen closely you can hear the chirping of Pikas as they announce their presence on the alpine rock fields at the foot of the majestic cliffs of Treasure mountain.
It is not unusual to see Moose taking a stroll through the morning mist floating over Treasure Lake early in the morning
The beauty of the Treasure Mountain Camp and surrounding area is unsurpassed. Nowhere else will you find such breathtaking scenery. This beautiful camp is located at the western base of the Grand Tetons, up the fiercely beautiful Teton Canyon approx. 9 miles east of Driggs, Idaho.
In the early morning and at night you can hear the faint hiss of Medicine Falls as the glacial runoff creates a spectacular beautiful 200 foot waterfall. Indian legend holds that the falls are sacred and that simply looking upon them every day brings you good luck, strength and helps build honor in your heart.
The camp is filled with great traditions and history. Many of the scouts attending are 4th, 5th and 6th generation scouts whose fathers and father's fathers attended as boys.
Table Rock hike brings you within a stone's throw of the Grand Tetons. Devil's Staircase hike is a winding hike to a high-grass meadow and lake. Mirror Lake hike takes you through the Alaska basin with several glacier-formed lakes that are ice-cold and crystal-clear.
Treasure Mountain has more to offer than hikes. The pure, clear lake offers plenty of activities, from swimming and canoeing, to the Battle of the Tetons. This patrol competition is the survival of the driest! Nature, conservation, Indian Lore, Fishing, Wilderness Survival and Basketry are some of the favorite merit badges, but certainly not the only ones. A week spent at Treasure Mountain will provide a lifetime of memories for you and your Scouts.
Each of the 28 campsites is named after an authentic Indian chief, providing plenty of legends and lore. There are five 6-day sessions offered in 2015. Check-in is on Monday mornings, check-out on Saturday mornings.
NATIONAL FOREST LANDS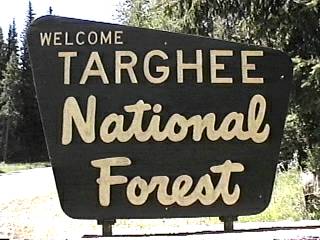 Treasure Mountain Scout Camp's operations are on National Forest lands and are authorized under special use permit by the Caribou-Targhee National Forest and operated on a non-discriminatory basis.
NON-DISCRIMINATION CLAUSE
Treasure Mountain Scout Camp does not discriminate against anyone on the basis of race, color, national origin, religion, age, sex, handicap, or any other delineation of peoples.